Previous Monthly Meeting Presenters
October 21, 2021
Moons and Small Bodies in the Solar System
Dr. Amanda Hendrix, Senior Scientist, Planetary Science Institute
There are many moons and many types of small bodies in our solar system. Main belt asteroids, near-Earth asteroids, Jupiter's Trojan asteroids, Kuiper Belt objects… the list goes on. Each of these worlds is unique - and many have been, or will be, visited by spacecraft missions. I will share some of the unique characteristics of these bodies, particularly as has been learned from recent missions. I will discuss results from the Lunar Reconnaissance Mission, Cassini, Galileo and Dawn missions (among others), and will discuss plans for the upcoming Psyche, DART, Lucy, MMX and Dragonfly missions.

Dr. Amanda Hendrix engages in UV spectroscopy of planetary surfaces including icy satellites, asteroids, Earth's moon, Mars and Jupiter's moon Io. She studies surface composition, weathering processes and radiation products.
Dr. Hendrix has 20+ years of experience in planetary science research. Hendrix received a B.S. in Aeronautical Engineering from Cal Poly, San Luis Obispo and an M.S. and Ph.D. in Aerospace Engineering Sciences from the University of Colorado Boulder. As a graduate student and post-doctoral research at LASP/Univ. Colorado, Hendrix gained valuable experience in UV spectroscopy and instrumentation and began a career of investigating solar system surfaces (largely airless bodies) in the UV. After LASP, she spent 12 years at JPL, progressing from a science planner on Cassini to Deputy Project Scientist, before moving to PSI in 2012. She is a co-investigator on the Cassini UVIS instrument as well as on the LRO LAMP instrument. She has led observing and research teams and published results in numerous NASA R&A and HST programs. Hendrix is the Director/PI of the NASA Toolbox for Exploration (TREX) team. She co-authored Beyond Earth: Our Path to a new Home in the Planets, published by Penguin/Random house in Nov 2016. Minor Planet 6813 Amandahendrix was named in her honor. Besides research, she enjoys teaching and sharing her love of planetary science with students and the public.
September 16th, 2021
The Southwest Research Institute's Suborbital

Research Initiative: First Flights in Next-Gen Suborbital
Dr. Dan Durda
We are in the midst of a revolution in scientific access to space. This revolution, fueled by billionaire investors like Richard Branson and Jeff Bezos, is fielding human flight sub-orbital systems right now. This new stable of vehicles, originally intended to open up a space tourism market, includes Virgin Galactic's SpacesShip2 and Blue Origin's New Shepard. Each offers the capability to fly multiple humans and their research payloads to altitudes of 70-140 km on a frequent (daily to weekly) basis for per-seat launch costs much less than ever before. At Southwest Research Institute we have been funded to conduct a multi-flight next-generation suborbital series of research missions.
Dr. Daniel D. Durda's bio is below, under March, 2021.
August 19th, 2021
Dark Matter and Why We Need It
Dr. Angela Collier
Some of the most exciting open questions in Astronomy pertain to the origin and properties of dark matter. Dark matter accounts for ~85% of the mass of the Universe but still eludes direct detection. I will discuss in detail the evidence of dark matter and it's role in shaping the cosmos. While the importance of dark matter is well understood, it's underlying nature is still a mystery. Many cosmologists maintain they are 'on the verge' of solving this mystery (though they have been on the 'verge' for 30 years now.) I will describe a few of the more interesting theories and experiments. You will not leave this talk with an answer to the question 'What is dark matter?' but you will hopefully understand its importance.
Bio: See April 2021, below
July 2021
No outside speaker. LAS member David Elmore presented his studies of deep exposures of bright and dark nebulae in the Milky Way using his setup in New Mexico. For more, please see the August, 2021 newsletter in the archives.
June 17th, 2021
Radio Astronomy: Past and Future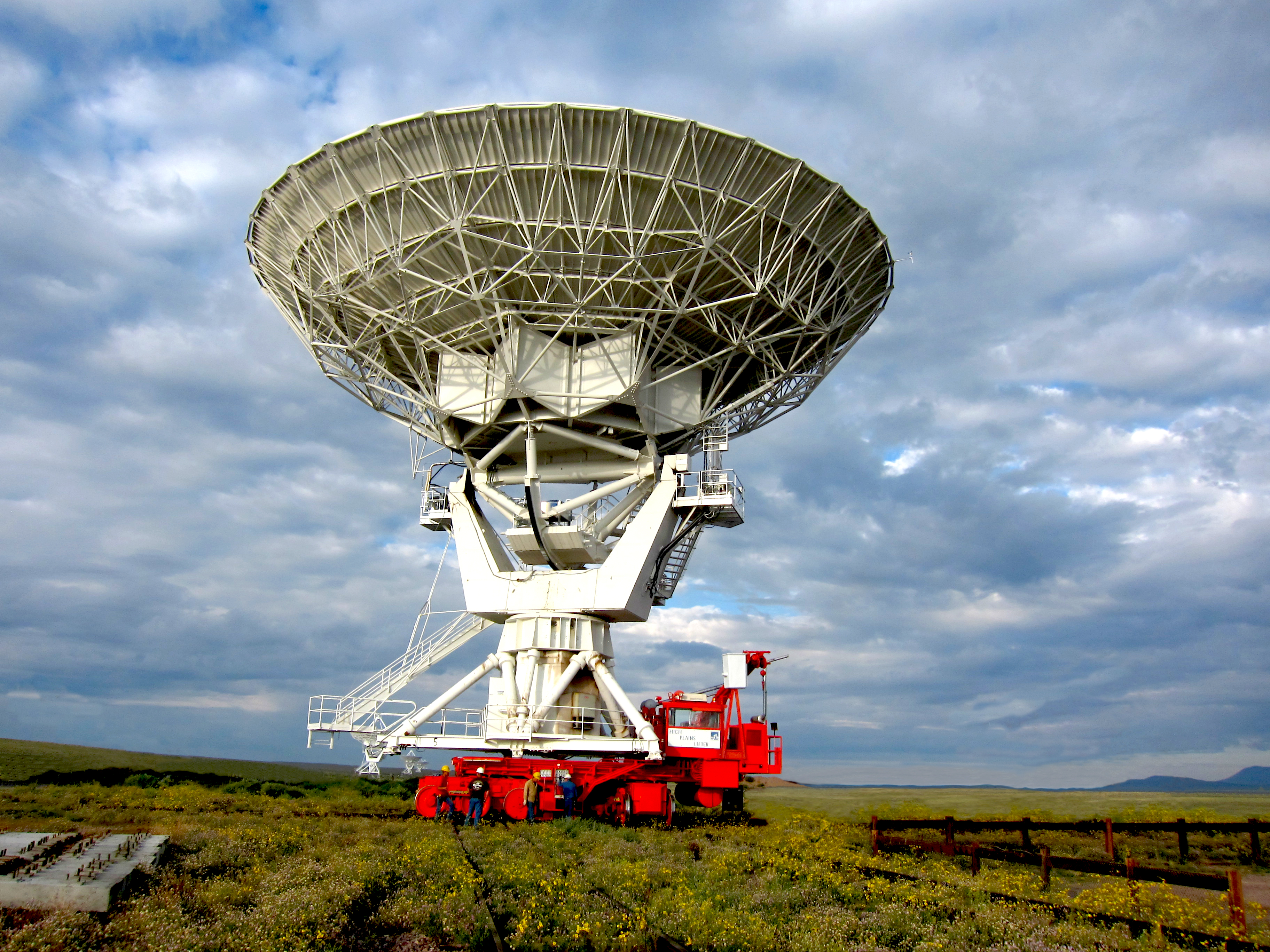 At left, Karl Jansky, considered the father of radio astronomy, at work on his antenna in the 1930's. Photo: Bell Telephone Laboratories
At right, A Very Large Array antenna being transported alongside a patch of blooming wildflowers on the Plains of San Agustin. To get a sense of the scale, note the men standing by the truck.
Credit: NRAO/AUI/NSF

Dayton Jones
Senior Research Scientist, Space Science Institute
The radio astronomy community was dealt a blow last December when the iconic Arecibo radio telescope collapsed. I will discuss how this happened and what options may exist for a replacement. Looking ahead, large arrays of small telescopes will provide more capabilities than any single-aperture telescope could. The international astronomy community is developing the Square Kilometre Array (SKA), a massive project to construct several hundred dish antennas in South Africa to observe at medium radio frequencies, and hundreds of thousands of dipole antennas in western Australia to observe at low radio frequencies. In parallel, the US National Radio Astronomy Observatory is proposing a next-generation Very Large Array (ngVLA) to observe at higher frequencies with an array of dish antenna in the southwestern US. I will briefly describe the plans for these future facilities and some of the primary science goals that have motivated their design.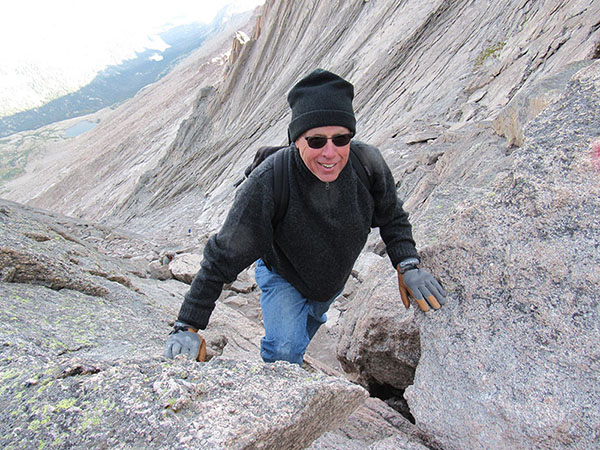 Dayton Jones grew up in Philadelphia and attended Carleton College (BS in Physics, 1974), University of California at Santa Barbara (MS in Scientific Instrumentation, 1976) and Cornell University (MS in Astronomy, 1979, and PhD in Astronomy, 1981). Following graduate school he was a postdoc with the VLBI radio astronomy group at Caltech, then a National Research Council postdoc at the Jet Propulsion Laboratory in Pasadena. He joined the JPL staff in 1986 and worked there until 2015 when he joined the Space Science Institute in Boulder, retiring from JPL as a Principal Scientist. He is currently working part-time as a Senior Research Scientist at SSI and living near Lyons. His research interests center on high resolution radio imaging and astrometry using interferometry. He is an author on more than 100 refereed papers in scientific journals. His other interests include amateur radio, hiking, skiing, and reading.
May 2021
Juno Update at Jupiter: What's Happening to the Great Red Spot?
Fran Bagenal, University of Colorado, Boulder
The giant planet Jupiter is recognized by its orange and white stripes—and its Great Red Spot (GRS). A large red storm in Jupiter's atmosphere has been observed by modest Earth-based telescopes for centuries. In 1979 the Voyager spacecraft made movies of the GRS which showed that it is about the size of two Earth diameters and had hurricane-scale wind speeds that circulated in six days. Since July 4, 2016, NASA's Juno spacecraft has been in orbit around Jupiter and made more than 30 orbits over Jupiter's poles. Fortuitously, in the past year, Juno made some passes close to the GRS, providing new measurements of the depth of the storm and its turbulent atmospheric structures. In this talk, LASP scientist Fran Bagenal will show how Jupiter's Great Red Spot has been observed by telescopes on Earth as well as from spacecraft near Jupiter. The storm has noticeably shrunk in size over the past 40 years…Will it disappear? Will it grow back to the size it was during the Voyager epoch?
Dr. Fran Bagenal was born and grew up in England. In 1976, inspired by NASA's missions to Mars and the prospect of the Voyager mission, she moved to the US for graduate study at MIT. After Voyager flybys of Jupiter, Saturn, Uranus and Neptune she joined the faculty at the University of Colorado, Boulder in 1989. She was professor of Astrophysical and Planetary Sciences until 2015 when she chose to focus on NASA's New Horizons mission to Pluto (flyby July 14, 2015) and Juno mission to Jupiter. Juno went into orbit over the poles of Jupiter on July 4, 2016 and has since made 33 passes over Jupiter's swirling clouds. She remains a Research Scientist at CU's Laboratory for Atmospheric & Space Physics in Boulder.
April 2021
How do Galaxies Get their Shapes?
Dr. Angela Collier
Astronomers classify galaxies into three categories, based on their morphology: elliptical, spiral and irregular. Each type of galaxy spans a wide range of size, kinematic properties, and chemical makeup. The appearances of galaxies are shaped over billions of years by interactions with other galaxies and internal dynamical processes. While we do not know for sure how galaxies form to take these different shapes observed today we can find clues in galactic simulations. I will discuss the current state of the field and my own work on dark matter interactions within galaxies.
Angela Collier is a theoretical physicist who explores the role of dark matter interactions in large scale secular dynamics through analytical calculations and numerical simulations. She currently works at JILA and CU Boulder as a research postdoctoral fellow in the Eccentric Dynamics Group. She is originally from eastern Kentucky.
March 2021
All These Worlds: The Exoplanet Revolution

For generations we've wondered whether we are alone in the Universe. Thanks in large part to space missions like Kepler, we now know that we live in a galaxy full of diverse planetary systems. Not only are we detecting planets around thousands of other stars, we are beginning to characterize them as well, revealing the vast stage for the play of life in the Universe.
Dr. Daniel D. Durda is with the Southwest Research Institute in Boulder. He has more than twenty-five years of experience researching asteroids, Vulcanoids, Kuiper belt comets, and interplanetary dust, including airborne astronomical observations from high-performance jet aircraft. He is an active pilot with time logged in over a dozen types of aircraft and has more than 110 minutes of time conducting experiments on NASA's zero-gravity KC-135 aircraft. He has co-authored a book, published numerous articles popularizing planetary science and human exploration of space, and has appeared in more than 70 television science documentaries. Dan is an experienced cave diver and participates in underwater cave rescue and recovery missions.
February 2021

The virtual tour of the Astronomical Lyceum in Magdalena, New Mexico with Dr. John Briggs is still available. To see the presentation Dr. Briggs gave to LAS, click
here
.
Virtual Star Party Presentation
Dr. Brian Ottum gave a great talk on January 31st about a virtual star party using a remote telescope to view Orion. It's still available on YouTube.