Monthly Meeting
Radio Astronomy: Past and Future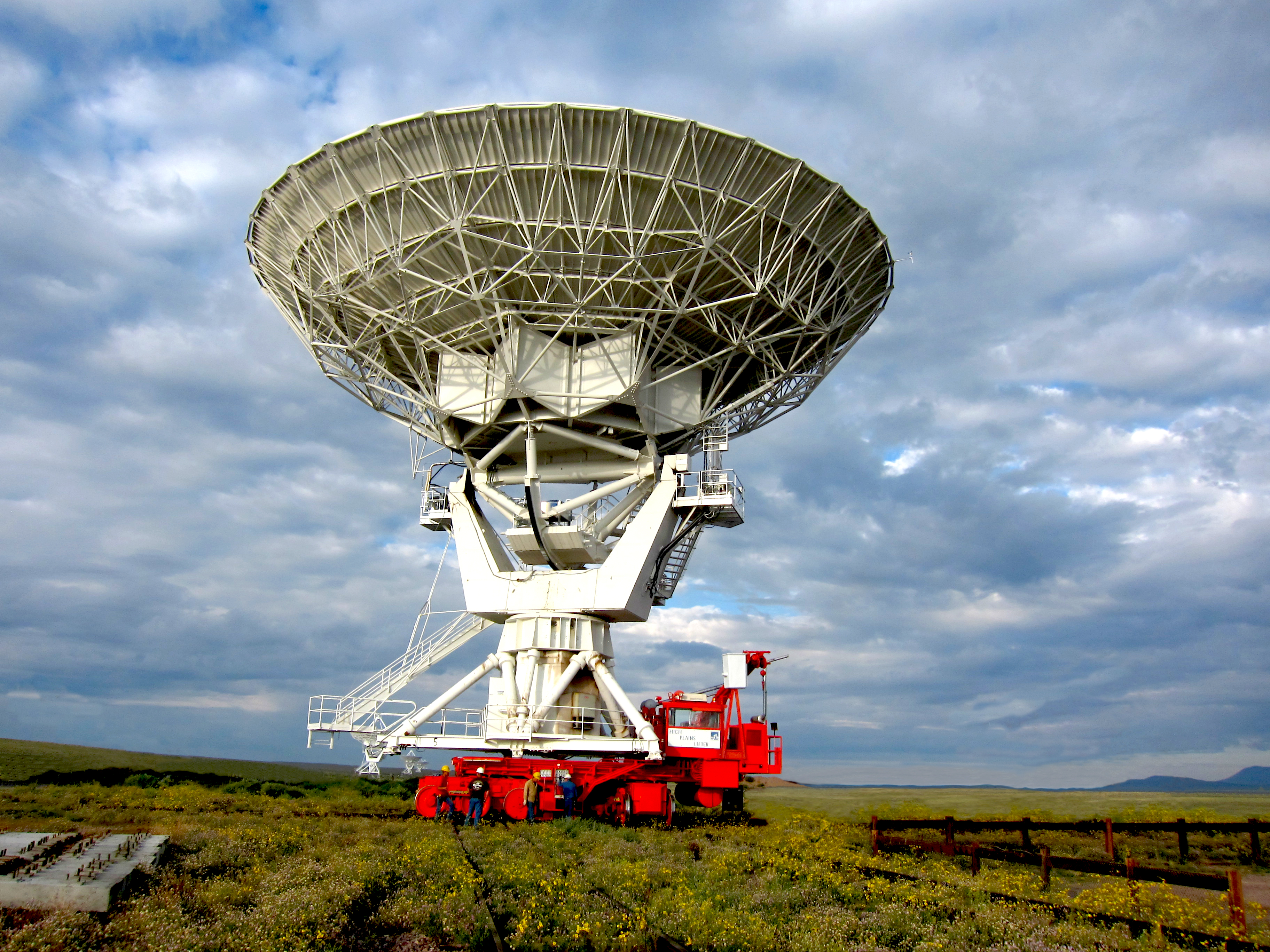 At left, Karl Jansky, considered the father of radio astronomy, at work on his antenna in the 1930's. Photo: Bell Telephone Laboratories
At right, A Very Large Array antenna being transported alongside a patch of blooming wildflowers on the Plains of San Agustin. To get a sense of the scale, note the men standing by the truck.
Credit: NRAO/AUI/NSF

Presenter: Dayton Jones
Senior Research Scientist, Space Science Institute
Thursday, June 17 at 7:00 p.m. via Zoom
You're welcome to log in at 6:30 to check your connection, and join in some casual conversation.
The radio astronomy community was dealt a blow last December when the iconic Arecibo radio telescope collapsed. I will discuss how this happened and what options may exist for a replacement. Looking ahead, large arrays of small telescopes will provide more capabilities than any single-aperture telescope could. The international astronomy community is developing the Square Kilometre Array (SKA), a massive project to construct several hundred dish antennas in South Africa to observe at medium radio frequencies, and hundreds of thousands of dipole antennas in western Australia to observe at low radio frequencies. In parallel, the US National Radio Astronomy Observatory is proposing a next-generation Very Large Array (ngVLA) to observe at higher frequencies with an array of dish antenna in the southwestern US. I will briefly describe the plans for these future facilities and some of the primary science goals that have motivated their design.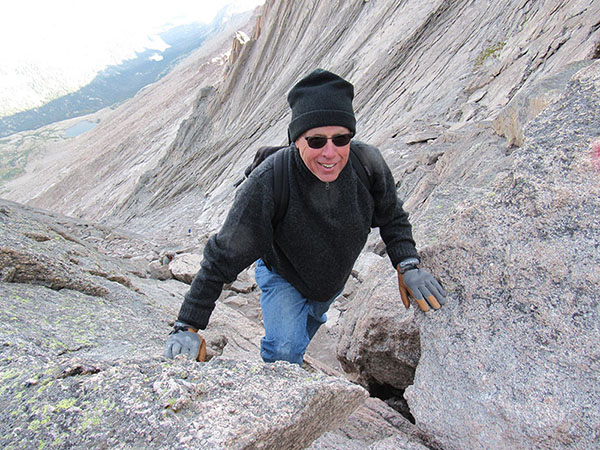 Dayton Jones grew up in Philadelphia and attended Carleton College (BS in Physics, 1974), University of California at Santa Barbara (MS in Scientific Instrumentation, 1976) and Cornell University (MS in Astronomy, 1979, and PhD in Astronomy, 1981). Following graduate school he was a postdoc with the VLBI radio astronomy group at Caltech, then a National Research Council postdoc at the Jet Propulsion Laboratory in Pasadena. He joined the JPL staff in 1986 and worked there until 2015 when he joined the Space Science Institute in Boulder, retiring from JPL as a Principal Scientist. He is currently working part-time as a Senior Research Scientist at SSI and living near Lyons. His research interests center on high resolution radio imaging and astrometry using interferometry. He is an author on more than 100 refereed papers in scientific journals. His other interests include amateur radio, hiking, skiing, and reading.
Information on previous months' talks can be found on our Presentations page.
The July monthly meeting will be in person!
The monthly meeting for Thursday, July 15th will be held at The Niwot Inn and Spa, at 342 2nd Avenue, Niwot. Members and guests are invited to arrive starting around 6:30; the meeting proper will commence at 7:00.
First Star Party of the year scheduled for Friday, July 16th!
Boulder County Open Space and LAS are partnering once again to host this event. It starts with a brief program on the moon, followed by telescope viewing, with the telescopes provided by members of the LAS. You can learn more about Star Parties on our Star Parties page.
The event runs from 8:15 to 10:15. Registration is required, and you'll be informed of the location once you're registered. Masks may be required at telescopes.
ESA announces contest to name its Spacecraft
The European Space Agency has a new spacecraft for studying dangerous solar activity, and they're holding a contest to come up with a name for it. You could win a voucher for ESA's Space Shop, and maybe some bragging rights.
Now showing at DMNS Gates Planetarium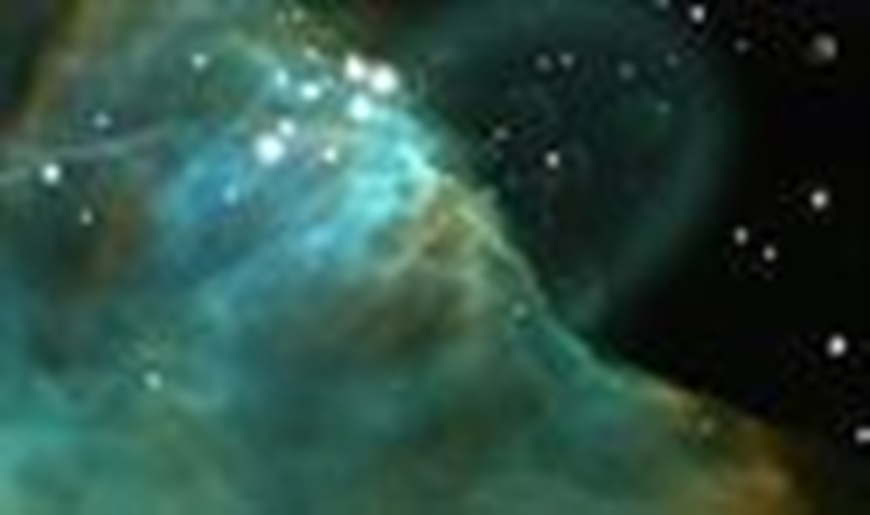 "Black Holes: The Other Side of Infinity" and "Cosmic Journey" are being screened at the Denver Museum of Nature and Science. "Agujeros Negros en español" shows on Sunday afternoons. The shows are available through July 15, and are suitable for children, adults and seniors. Tickets can be purchased on the DMNS
website
.
Is there a new Auroral Feature on Jupiter?
Scientists from the Southwest Research Institute, which has offices in Boulder, Colorado, and is based in San Antonio, Texas, have detected new, faint aurora features on Jupiter. The features were detected by the SwRI-led Ultraviolet Spectrograph (UVS) orbiting Jupiter aboard NASA's Juno spacecraft.
Related
An article in Forbes describes Juno's 33rd flyby, which resulted in more spectacular images of Jupiter. The article also mentions the citizen scientists who processed the raw data, outlines Juno's extended mission through September of 2025-which involves flybys of four Jovian moons-and talks about various insights gained from Juno's different perspectives of Jupiter.
Citizen Scientist Opportunity

Southwest Research Institute's JunoCam website invites you to participate in the mission, shows raw data from it, gives a behind the scenes look at the decision-making processes and allows citizen scientists to try their hand at image processing. The link here takes you to the image processing page, but check out the Think Tank link while you're there.
Check out NASA's website for downloadable Apps, Podcasts, e-Books and more
NASA's website offers several downloads, among them its own app, which includes videos on demand, a Solar System Exploration feature, daily images like the one at left, and more.
You can see them on the NASA downloads page, or go via the LAS Educational and Community Outreach page.
This image, of a black hole shooting jets for millions of trillions of miles, is just one of thousands available on the NASA app.
Image Credit: NASA, ESA, S. Baum and C. O'Dea (RIT), R. Perley and W. Cotton (NRAO/AUI/NSF), and the Hubble Heritage Team (STScI/AURA)
Niwot Inn and Spa